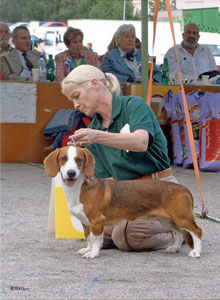 Track - Action Legenda (Abba)
Born 15.10.2006 (Track – Action kennel, Finland)
Pedegree
EST & LT & LV & BALT & RUS
& BLR JUN CH
BALT JUN W 07 & FIN JUN W 07
All teeth, brown and white.
Abba is a dog with extremely strong hunting instinkt. He is very independent by character.
Abba is a very successful showdog.

12.02.2008 a. He is gone to the forest and away till now.
SHOW RESULTS
2007

02.06.2007 Tallinn, Estonia PUPPY 2/1 ( Kresten Scheel)
30.06.2007 Pärnu , Estonia PUPPY 1/1 BOB PUPPY ( Mstislav Polivanov)
18.08.2007 Kouvola, Finland JUN 1/1, CAC, BOB (Saija Juutilainen)
19.08.2007 Heinola , Finland JUN 1/1, CAC , BOB, BIG-3
( Kirsi Nieminen )
26.08.2007 Pskov, Russia JUN 1/1, JUN CAC, BOB JUN ( Brankovits )
01.09.2007 Lagedi, Estonia JUN 1/1, JUN CAC , BOB JUN , BOB , BIG-3 (Rony Doedijns)
09.09.2007 Kaunas, Lithuania JUN 1/1, JUN CAC, BOB JUN , BOB , BIG-3 ( Brankovits)
15.09.2007 Mogiljov, Belorussia JUN 1/1, JUN CAC, BOB JUN ( L.Repina )
20.10.2007 Rakvere , Estonia JUN1/1, JUN CAC, BOB JUN , BOO ( Tapio Eerola )
11.11.2007 Riga, Latvia , JUN 1/1, JUN CAC, BALT JUN W07, BOO (Luis Catalan)
17.11.2007 Sillamäe , Estonia JUN 1/1, JUN CAC, BOB JUN , BOO (Tina Sulce)
EST & LT & LV & BALT & BLR & RUS JUN CH
25.11.2007 Hamar, NORWEY WINNER - 07 , JUN- kval 1, konk1 (John Smedbakken)
08.12.2007Helsinki , FINLAND WINNER - 07, JUN 1/1, JUN FIN W07, BM -2, CAC ( M. Johansson)
2008
9.02.2008 Tallinn, Estonia open 2/1 ( W. Peper )