Blanco Solar Dad`s Baby
Born 13.03.2005. White and liver spots.
Zena is out of our A-litter.
BAER +/+, all teeth, HD A/0.
She is 55 sm and 25 kg.
Pedegree
Estonian Junior Champion, Lithuanian junior Champion, Estonian Champion, Finnish Champion, Belorussia Champion, Russian Champion , Latvia Champion, Lithuanian Champion, Baltian Champion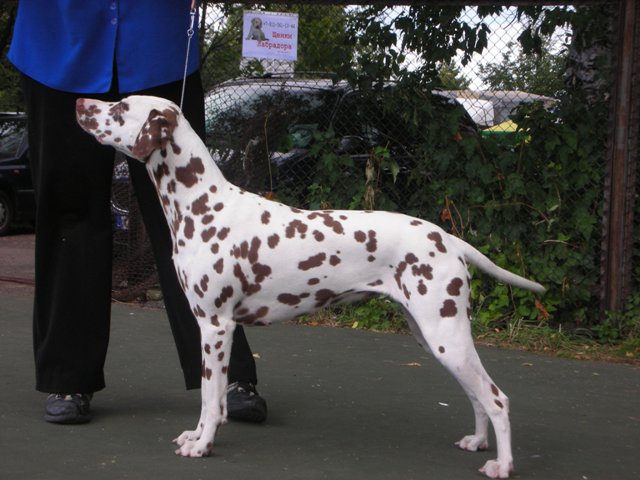 Zena is a very elegant female with beautiful head and expression. She is with balanced temperament – active outside and calm at home. Her easy-going and soft character makes real pleasure to own this dog.
Zena`s mother is a healthy, strong female with beautiful body-construction, movements and nice temperament. We have her in our kennel till now
Zena`s father is Interchampion, Multichampion Zabavan Uzenii (HD BB, BAER tested). Uzenii is living in Finland with Niina Laine in her wonderful kennel.
Zabavan Uzenii father is famous Jilloc`s a Man in the Mirror.
Moving Zena on show in Finland.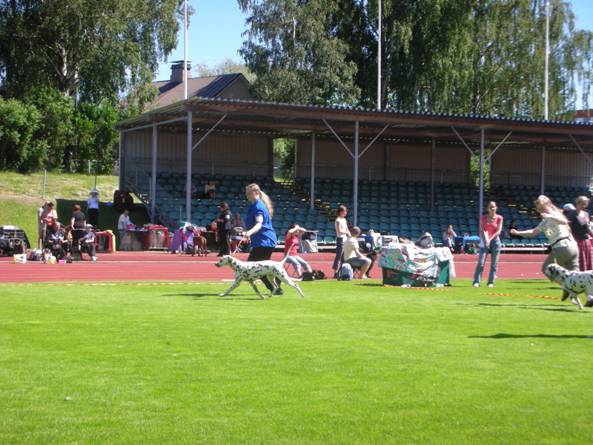 SHOW RESULTS

2005
16.10.2005 Rakvere , Estonia - Best Puppy, ( Harri Lehkonen)
06.11.2006 Tartu , Estonia - Puppy 1/2 ( Liliana de Ridder-Ongena)
19.11.2005 Riga, Latvia - Best Puppy (Mery Chantal)
26.11.2005 Sillamae, Estonia - Best Puppy BIS-1 ( J. Matyas)
03.12.2005 Vilnus, Lithuania : Best Puppy
10.12.2005 "Christmasshow" Tallinn, Estonia : Best Puppy (Anne Sume)
Best Puppy of Dalmatian Club 2005 ( EDALK)

2006
21.01.2006 Nõo, Estonia - JUN 1/1, BOB JUN , JUN CAC (Joop Hiddes)
11.02.2006 Talinn CACIB, Estonia - JUN 2/3 ( L. Ragnas Hjorth)
11.03.2006 " LITHUANIAN WINNER'06" Vilnus, Lithuania - JUN 1/3 (Nijole Zieniene)
12.03.2006 Vilnus, Lithuania - JUN 1/2 ( Zivile Povilaitiene)
18.03.2006 " LATVIAN WINNER'06" Riga, Latvia - JUN 2/1 (Miroslaw Redlicki)
01.04.2006 Rakvere, Estonia - JUN 1/2 , BF-3
22.04.2006 Sillamae, Estonia - JUN 1/1 , BOO JUN, BOO , JUN CAC (Liliann Hanniste)
30.04.2006 Klaipeda, Lithuania - JUN 1/2 (
20.05.2006 Valmeira, Latvia - 1/- ( M. Wieremiejczyk)
03.06.2006 "BALTIC WINNER'06" Tallinn, Estonia - JUN 2/1 (Soile Bister)
17.06.2006 Parnu, Estonia - JUN 2/2 (Petr Rehanek)
25.06.2006 Marjampole, Lithuania - JUN 1/1 , BOB JUN, JUN CAC, BF-2 ( V. Bacevicius)
02.07.2006 Riga, Latvia - JUN 1/4 (Aramis Lim)
22.07.2006 Haapsalu, Estonia : JUN 1/2 , JUN CAC, BF-4 (Borges)
(JUN LT CH & JUN EST CH)
29.07.2006 Marupe, Latvia - JUN 1/2 ,( R.Hadzik)
19.08.2006 Kouvola, Finland - JUN 1/2 , ( Zlatko Kraljik)
20.08.2006 Heinola, Finland - INT 2/2 (Theo Leenen)
10.09.2006 Ventspils, Latvia - JUN 1/2 ,(Marina Ostrovskaja)
23.09.2006 Mogiljov , Belorussia - OPEN 1/1 , BLR CAC, BOB, BIG-1, BIS-6 (A. Zuk)
04.11.2006 Tartu, Estonia - INT 1/1 , BF-2 , r-CACIB (Steffi Kirschbichler)
10.12.2006 Helsunki , Finnish winner 2006 - OPEN 2/- (Manola Poggesi Ametoli )
16.12.2006 Vilnus, Lithuania - INT 2/1 ( M. Zidar)
17.12.2006 Vilnus, Lithuenia - INT 1/3 (Zivile Povilaitiene)
2007
31.03.2007 Rakvere , Estonia - OPEN 1/1 , BF-3, CAC, EST&BLR CH (Markku Mahonen)
10.02.2007 Tallinn, Estonia - OPEN 2/3 ( Steven Seymour)
02.06.2007 Tallinn, Estonia - OPEN 1/2 (Peter Beyersdorf)
17.06.2007 Hamenlinna, Finland - OPEN 1/2 ( Saija Juutilainen)
30.06.2007 Pärnu , Estonia - OPEN 1/1 BF-4 ( Helge Lie)
18.08.2007 Kouvola , Finland - OPEN 1/1 ,BF-2, CAC, FIN CH (Saija Juutilainen)
19.08.2008 Heinola, Finland - CH 1/1, BF-1, BOB
26.08.2007 Pskov, Russia - OPEN 1/1, CAC , RUS CH ( L. Sokolova )
01.12.2007 Vilnus, Lithuenia - OPEN 1/1 , PE-2 , CAC (Erge Vaskelaite)
2008
26.07.2008 Marupe, Latvia- OPEN 2/1 ( Zafra Sirik)
26.07.2008 Marupe, Latvia Open 1/- ( Tina Sulce)
27.07.2008 Marupe, Latvia -OPEN 1/1, CQ, LV CAC, BF-2 , LV CH (Joao Serradas Vieira Lisboa )
21.12.2008 Vilnus, Lithuania –CH1/3 ( Marina Patrina )
20.12.2008 Vilnius, Lithuania CH 1/1, LT CAC, BF-3-(Peata Petkeviciene )