Alderisland Amazing Amanda
Born 21.08.2001 (Alderisland, Estonia)
BAER +/+, all teeth, HD B/0
Pedegree
Estonian Champion, Latvian Champion, Lithuanian Champion, Baltic Champion, Finnish Champion, Belorussia Champion, Russian Champion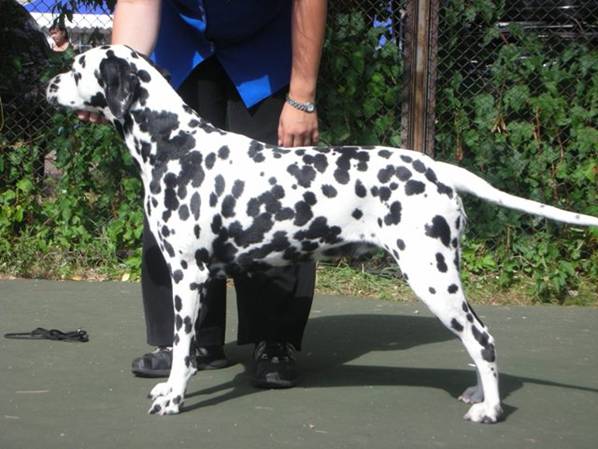 Maggy is a strong female, with excellent bone, anatomy, movements, beautiful head and expression. She is typical alfa-dog – leader with show temperament and drive. It is pleasure to handle such dog in ring, she is working in tight contact and giving all to make her owner happy.
Maggy is a daughter of famous Interchampion Rocca al Mare Adirato. Charlie was beautiful dalmatian with excellent temperament.
Maggy on International show in Vilnius.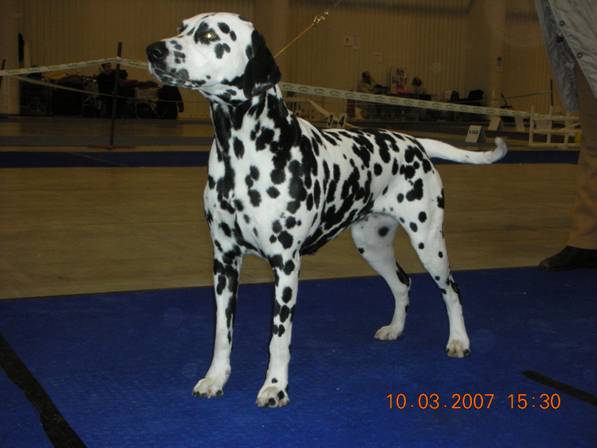 Maggy winning her CACIB in Lithuania.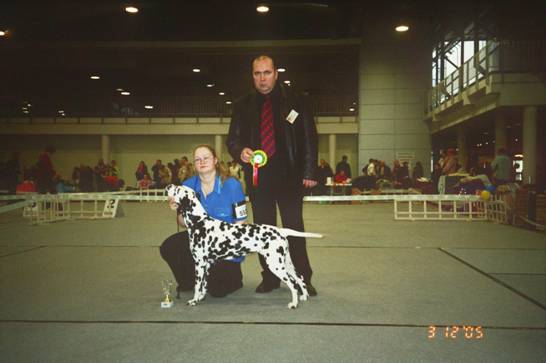 SHOW RESULTS
2003
23.03.2003 Triigi, Estonia ; OPEN 1/1 , BF-2, CAC ( Galina Zhuk )
07.06.2003 Tallinn, Estonia ; OPEN 2/2 ( Rita Kadike-Skadina )
17.05.2003 Jõhvi, Estonia ; OPEN1/4 ( Tamara Sarmont )
08.06.2003 Kaunas, Lithuania ; OPEN 1/1, BOO, LT CAC ( .A.Kisljakov)
28.06.2003 Parnu, Estonia ; OPEN 1/1, BF-2, r-CACIB, CAC ( Rita Kadike-Skadina )
12.07.2003 Luige, Estonia ; OPEN 1/2 ( A. Nikitin )
20.07.2003 Valmeire, Latvia ; OPEN 1/1 ( Ekaterina Senashenko )
09.08.2003 Hameenlinna, Finland ; OPEN 1/4( Rita Kadike-Skadina )
23.08.2003"Baltic Winner'03" Tallinn, Estonia ; OPEN2/- ( Matti Luoso )
06.09.2003 Vasalemma, Estonia ; OPEN1/2 ( Katrin Lahi )
25.10.2003 Paide, Estonia; OPEN1/1, BOO, CAC ( I.Pablaka )
( EST CH, LT CH)
 2004
28.02.2004 Daugavpils, Latvia ; CH 1/1, BOO, LV CAC ( A. Kisljakov)
( LV CH )
13.03.2004 Vilnus, Lithuania ; CH 1/3 ( A. Zhuk )
14.03.2004 Vilnus, Lithuania ; CH 1/3 ( A.Ivanov )
12.06.2004 Parnu, Estonia ; CH 1/2 ( Evgenii Kupliauskas )
11.07.2004 Mäntsalä, Finland ; CH 1/2 ( Damir Skok )
07.08.2004 Trakai, Lithuania ; CH 1/1, LT CAC
07.11.2004 Tartu, Estonia ; CH 1/3 ( Paula Rekiranta )
13.11.2004 "Baltic Winner'04" Riga, Latvia ; CH 1/4 ( Jochen Eberhardt )
2005
29.01.2005 Aseri , Estonia CH 1/1, BOB, BIG-1 (O.Grin)
30.07.2005 Viljandi, Estonia; CH 1/2, BF-3 (Blaz Kavcic)
Xantos& Alderisland Amazing Amanda 1/1, BEST BRACE
06.08.2005 "Baltic Winner'05" Trakai, Lithuania; CH 1/3 (Kari Jainnen)
21.08.2005 Mogiljov, Belorussia ; CH 1/1, BOB , BLR CAC, BIG-1, BIS-5                        (Galina Zhuk) (BLR CH)
27.08.2005 Kouvola, Finland ; OPEN 2/3 (Espin Engh)
28.08.2005 Heinola, Finland ; OPEN 1/3, BF-3, r-CAC (Harry Tast)
06.11.2005 Tartu, Estonia ; CH 1/2 (Lilian de Ridder-Onghena)
19.11.2005 Zooekspo, Riga, Latvia ; CH 1/5 (Chantai Mery)
03.12.2005 Vilnus, Lithuania ; CH 1/1, LT CAC, BOO, CACIB ( ? )
Best dog of Dalmatian Club 2005 – 4 ( EDALK)
2006
11.02.2006 Tallinn, Estonia CH 1/1 , BF-4(L.Ragnas Hjorth)
11.03.2006 " Lithuanian Winner'06" Vilnus, Lithuania CH 1/4 (Nijole Zieniene)
12.03.2006 Vilnus, Lithuania CH 1/4 ( Zivile Povilaitiene)
18.03.2006 " Latvia Winner'06" Riga, Latvia CH 1/- ( Miroslav Redlicki)
03.06.2006 " Baltic Winner'06" Tallinn, Estonia; CH 1/2, BF-3 (Soile Bister)
17.06.2006 Parnu, Estonia CH 1/2, BF-2, r-CACIB (Petr Rehanek)
20.08.2006 Heinola, Finland OPEN 1/1 , FIN CAC, BOB, BIG-4 (Theo Leenen) ( FIN CH)
10.12.2006 Helsinki, Finland CH 1/- (Manola Poggesi Arnetoli)
16.12.2006 Vilnus, Lithuania ; CH 1/1 , LT CAC, PE-2, r-CACIB ( M. Zidar)
17.12.2006 Vilnus, Lithuania ; CH 1/4 , (Zivile Povilaitiene)
2007
02.06.2007 Tallinn, Estonia "Winner 2007" CH 1/- ( Peter Beyersdorf )
30.06.2007 Pärnu , Estonia CH 1/1 BF-1, CACIB, BOO (Helge Lie)
26.08.2007 Pskov , Russia CH 1/2 (L.Sokolova)
2008
08.06.2008 Pskov, Russia, CH 1/1, RUS CAC, RUS CH ( N. Bulelik)
26.06.2008 Parnu , Estonia CH 2/3 ( Maciej Kozber)